You want to advertise on Facebook. Of course you first have to create your Facebook ad account. You can find the steps for creating your ad account here. After you set all this up, you may still run into some challenges. As; how do I add a user to my ad account?
Tip: to prevent a payment from failing and Facebook immediately stopping showing your ads, I recommend that you add at least two payment methods to your ad account. When a payment fails, the secondary payment method is used.
In this article we'll walk you through:
How to create multiple Facebook ad accounts.

How to receive fewer invoices from Facebook.

What to do if your Facebook ad account is disabled.
Create multiple ad accounts with Facebook?
Each user on Facebook can create one ad account but manage up to 25 ad accounts. So you can manage multiple ad accounts through other users. If you need multiple companies and therefore multiple ad accounts, you can use the Facebook Business Manager to create multiple accounts and pixels.
The Facebook Business Manager allows you to create up to three ad accounts; each account gets its own pixel. Is three accounts not enough? Then you can contact Facebook because they can remove the limit for you.
Fewer Facebook invoices? Adjust your payment threshold!
When you start advertising, your payment threshold will be set by Facebook at 20 euros. This means that for every 20 euros you spend, an invoice is created and a transaction takes place. Imagine spending 200 euros a day on Facebook, you would receive 10 invoices a day...
Fortunately, you can increase the payment threshold to 600 euros per invoice. That saves another 30 invoices ;). To do this, go to "Invoices" in the advertising manager and click on "Manage account preferences" under the heading "Account overview". Here you can set the amount from which you want to receive an invoice.
Do you think this is still too many transactions? Then it is also best to contact Facebook in this case. Facebook can then raise the limit - provided that all your invoices have always been paid properly - to a different payment threshold. If you spend more than 10,000 euros 3 months in a row, you can also pay by invoice.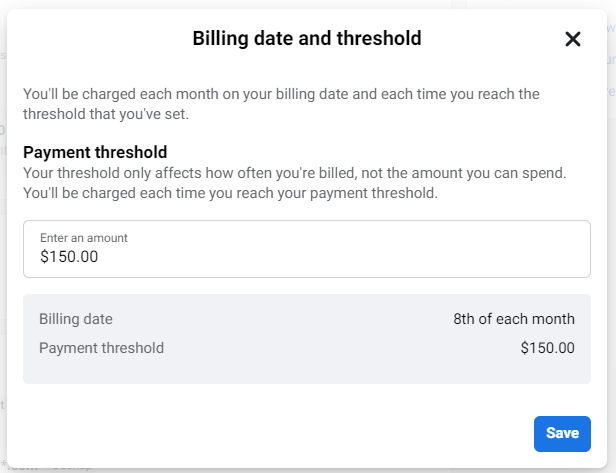 HELP! My Facebook ad account has been disabled!
You open Facebook's Ads Manager and you're shocked. Your ad account has been disabled. What does this mean now?
Facebook approves every ad. This is often done by means of computers, but in some cases also by a Facebook employee. If your ad does not meet Facebook's conditions, your ad will be disapproved. Not a disaster; you can think of this as a yellow card in football.
However... Facebook places great value on the user experience. Do you often break the rules? Then you will receive a red card and your ad account will be deactivated. Do you have an account manager at Facebook? Then you are in luck and you have a chance to get your ad account back.
Don't have an account manager? Unfortunately, then you will have to try it through the 'normal' channels. Facebook is very difficult to reach here; often you will receive an automated answer. In this case, it is best to create a new ad account and start building your audiences again. Prevention is better than cure! So make sure you have read Facebook's terms and conditions.